Secretariat Network Infrastructure:
e-Governance infrastructure requirements for Mizoram Government Secretariat are divided into four parts such as
a. Cabling Infrastructure
b. Networking Infrastructure
c. Internet Backbone Infrastructure
d. End Users Computing Infrastructure
A proper cabling system design is paramount to a well functioning cabling infrastructure. As with any other major project, the key to a successful Cabling Installation is a proper PLAN. The Cabling infrastructure can be broadly divided into two sections i.e.:
Between Buildings
Within Building
4.1 Cabling between Building-to-Building :
A star fiber based network was established for Secretariat LAN. A multicore (12 core) cable is used between building-to-building. This provides sufficient spare capacity in the backbone network to take care of the future expansion plans. Network Control Centre (NCC) is located at the Top Floor of Secretariat Building Block 'E'. The diagram below gives a broad overview.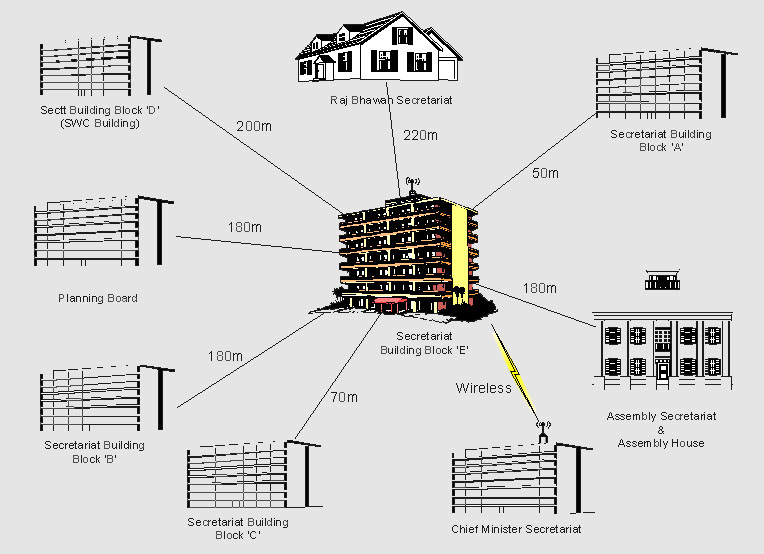 4.2 Cabling within the Building: A structured cabling was laid in every building using UTP Cable. Switches and rack mounted devices are installed in every floor. The diagram below shows switches connectivity within the building.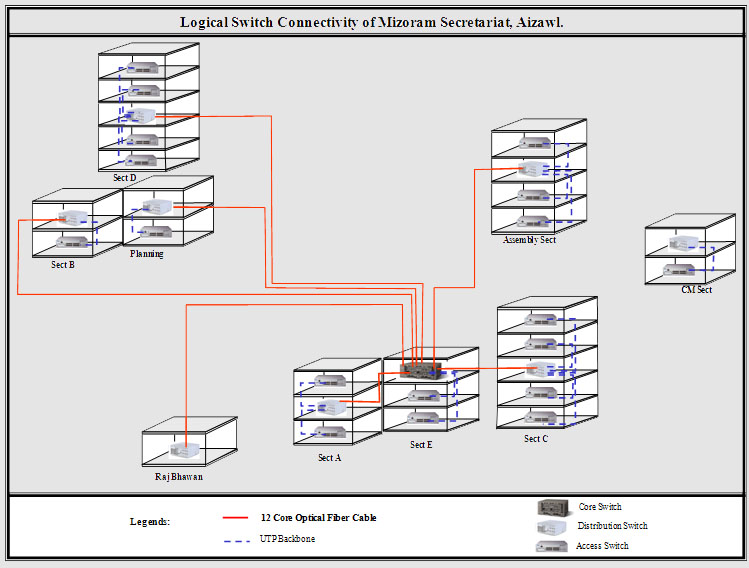 The Core Switch Catalyst 4507R is installed in the Top Floor of Secretariat Building Block 'E' (Considered as the central site in this document).
From Secretariat Block 'E', the following buildings are connected by 12 Core MM fibre to the Catalyst 2950 distribution Switches
Secretariat Building Block - A
Secretariat Building Block - B
Secretariat Building Block - C
Secretariat Building Block - D
Legislative Assembly Secretariat
CM Secretariat (through Wireless as distance is far away from NCC)
There are 8 nos of distribution switches (7 nos of Catalyst 2950SX and 1 no of Catalyst 2950G along with WS-G5486 module)
The edge Switches are Catalyst 2950-24 port, which is connected to the distribution switches over UTP Cable. The details of the connectivity are shown in the diagram above.
There is one site, which is connected to the central site over the wireless link with the central site. The remote site is CM Secretariat
There is also an Internet Backbone Router (Cisco 7206VXR/NPE-G1), which is connected to the Cisco PIX-515E Firewall. The Internet link is terminated in this Router.
The Firewall PIX-515E with failover is connected to the Core Switch. The second Ethernet port of the PIX is connected to the Internet Router via a switch (Catalyst 2970-24T). The third Ethernet port is defined as the DMZ zone where all the Servers (Mail Server, Web Server, etc.) are connected. There are another Catalyst 2970-24T switch, which is installed for connecting the Server in the DMZ zone.
There is a Cisco 3745 Remote Access Server (AS-3745-E1-60) for dial up connectivity.
There is another Cisco 7206VXR/400/2FE Router, which is to be used as the aggregation router. The routers to be connected when the WAN links are available at the site. Currently it can be used at the central site (Secretariat Building Block 'E') to terminate the leased line link for other Departments.