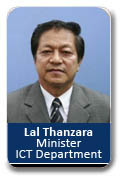 The Government of Mizoram envisions making Mizoram the most IT literate state in the country and a global center of excellence in IT Education & Training, Research and Development, Outsourcing Business.
This vision will translate into a mission for creation of wealth, IT led economic growth and employment generation. The State Government is committed to build citizen-centric services and providing services for the welfare and development of the society.
The Department of Information and Communication Technology (ICT) has been established in the year 2008 for framing policy, planning, implementation and monitoring of Information & Communication Technology and e-Governance projects. The Department has a vision to use Information & Communication technology to make available information and government services related to basic needs of common persons accessible to them near their locality throughout their lives through minimum procedural formalities thereby pursuing economic development.
---

Responses to the vendor queries received on the RFE of Agencies for Integration of Different Applications with e-Governance System (under Digital India)

PUBLIC NOTICE - Ministry of Statistics & Programme Implementation, Government of India

Booklet on Cyber Security & Social Media Security Awareness at YMA Gen. Conference 2014, Ratu, Mizoram

69th YMA General Conference, Ratu, a Pu Lalthlamuana, CIO, ICT thusawi lakchhuah (On Stage Speech)
---